Slatington farm not just average farm
September 5, 2003
By Terry Ahner Of The Chronicle
Not all farms are all work and no play.
At least not at Byler's Farm in Slatington, where in addition to hours upon hours of hard work, the family that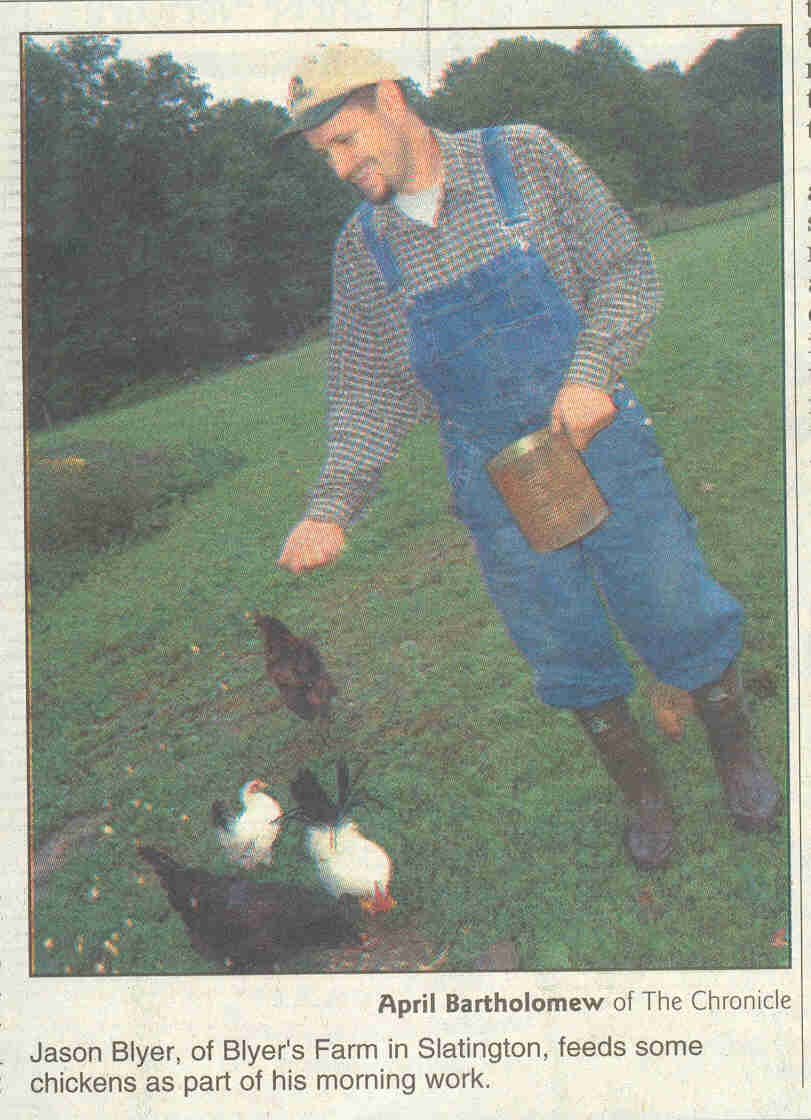 operates the 18-acre site also offers its visitors action-packed fun mixed with an educational twist.
Owned by Urbane and Ja­net Byler since 1967, Byler's Farm has become renowned for its wholesome products, tireless work ethic and rapid­ly growing Pumpkin Festival.
Held in October, the Pumpkin Festival has become a big hit, especially among elementary and nursery school aged children, ac­cording to Jason Byler, who, along with his wife Janine currently runs the farm while his parents are in Honduras. There, they are help­ing with a relief and service organization of the Mennonite Church.
"Really, it's a way for us to get rid of produce," Jason Byler said of the festival. "Our main goal was to make sure it is educational, because it is geared towards early school aged children."
Byler said children come from a number of local schools - including Peter's Elementary in Slatington, as well as Tamaqua, Kutztown, Allentown and Bethlehem.
He estimated anywhere from 7,000 to 8,000 children visit the farm weekdays throughout October, and an­other 4,000-5,000 people visit on weekends. Groups who attend the festival include families, schools, church groups, Scout troops and birthday parties.
"We do pumpkins, gourds, Indian corn for Halloween and harvest," Byler said.
Other activities at the fes­tival include hayrides to the pumpkin patch to pick, a pumpkin, seeing turkeys, a cow, a calf, pigs, a pony, rab­bits and other animals; milking the cow; feeding chick­ens and goats; gathering the chicken's eggs, sliding down the big slide into a pile of hay; walking through a maze of hay bales, shelling corn, and pony rides on weekends.
But things weren't always that way as is usually the case, the farm had to ex­pand its horizons over time. When the Bylers first bought the farm, the main crop was pick-your-own strawberries, Jason Byler said. They also raised and sold apples, pears, peaches, pumpkins, raspberries, cantaloupes, squash and other products. Several decades later - during the mid- to late-1980s - the Bylers decided to come up with the festival.
However, farming doesn't come without its price, as farmers often must spend grueling hours - sometimes the entire day working in the fields.
"There is no such thing as a typical day," Byler said. "There's always animal-feed­ing every morning, which takes anywhere from 45 min­utes to an hour… a variety of maintenance issues, like tractors, mowing, plowing, planting and field prep."
In fact, Byler said he begins working as early as 6:30 in the morning during the summer months.
"I stop for lunch, dinner and usually work until dark," he said. "During the winter, it's usually a little less, somewhere between four to six hours."
Regardless, Byler said he and his family get great satis­faction from the work they do.
"We're hoping that it provides people with a way to stay in touch with where their food comes from… the earth," he said. "There's also a lot of satisfaction for us personally when we plant a pumpkin and watch it grow."
Jason Byler and his wife will continue caring for the farm until his parents return from their stay in Central America in February of 2005. .
Farm owners Urbane and Janet Byler have been work­ing out of San Pedro Sula since leaving their farm in February of 2002.
There assignment is coordinating a program called, "Connecting People". As part of their assignment, they are helping prepare ways for delegations from North American churches to visit Honduras, as well as learning about the culture, faith and living conditions in the country," Jason Byler said.
Byler said his parents spent several years in Mexico with the Mennonite Central Committee during the mid-60s, during which time they "worked with agriculture and showed people how I to grow crops."
"They've been to Central America before, so it isn't as though they're newcomers," Byler said. "They're well-known over there."
terry.ahner@mcall.com 610-740-3147